TL;DR: For the past few years, India has become one of the world leaders in mobile adoption. However, this rapid growth has also brought to light several issues that can deeply challenge the quality of the experience for the thousands of new mobile users who join the Indian mobile ecosystem every day. This article explores why this is still happening, the impact on mobile app developers' work, and how to overcome Indian market challenges to ensure a near-perfect QoE for every mobile app user.


Unlocking the Indian Market - Mobile Applications
India expects to have more than a billion internet users by 2023. And if you ask what's their preferred way of accessing the internet today, an overwhelming half a billion will tell you they use their smartphone. To put it into perspective, that's roughly the same amount of people living in all the European countries combined, and the reason why India is the market to be in if you have or are building a mobile application.
India's smartphone usage already doubles desktop, and its adoption among adults increased from 22% in 2017 to 51% in 2020. The country intends to keep the uptrend, and clear indications of that are the recent upgrades on 4G networks that improved availability to the whole country.
However, current efforts may be enough to keep adoption rising, but certainly aren't sufficient to ensure the quality of the mobile experience. The average mobile download speed worldwide is 56.74 Mbps with upload speeds of 12.61 Mbps, while India recently stood at 122nd rank, with 17.77 Mbps for mobile download speed, and ​​5.09 Mbps of mobile upload speed, clearly under average.
Even compared among SAARC countries, Indian mobile speeds still lag, with significant discrepancies between fixed broadband and mobile.
W
hy is this happening:
The first question that arises is "why?". Why is one of the most promising mobile markets in the world, a mobile-first nation, still experiencing such low performance on wireless connections? The answer to that isn't straightforward. Indian mobile networks are in a harsh and complex situation, with many unsolved challenges contributing to the current undesired scenario. Highlighting some of the most impactful will help us to understand the "big picture":
Smartphone Influence
India's smartphone usage growth in the past few years caused a massive spike in mobile data demand, which was impossible to cover by the available service providers.
Fierce competition among ISPs (389 licensed) creates barriers and a complex growth environment.
Telecom Sector Financial Problems
Inexpensive pricing models are not leaving operators with enough revenue to maintain and upgrade the required systems.
Low mobile data pricing plans accessible to a wider demographics are leading to crowded towers and network congestion.
India's spectrum per operator is low compared to other countries, implying a poor spectrum per customer. As a result, 4G network speeds are poor.
Sources: Selectra, Wionews, T.R.A.I.


In sum, India has been unstoppable regarding mobile adoption and its growth. But, during the process, it also created a fairly complex situation for the entire ecosystem:

Service providers cannot ensure fast and reliable connections to mobile users, as they can't keep up with demand and require infrastructure investments.

App developers have nightmares trying to optimize everything in their power to deliver a quality user experience and boost user engagement, just to watch their hard work being killed by poor network conditions entirely out of their control.

And finally, the mobile users have to deal with the frustration of interacting with their favorite apps while they keep stalling, entering infinite loading loops, and destroying what should be an enjoyable experience.



Is this an overreaction?




If you are thinking the statements above may seem exaggerated, I don't blame you. After all, why should you care about user experience or unperfect wireless conditions if mobile adoption keeps skyrocketing?
In short, adoption growth signals the interest in mobile solutions by the users but is no indication of satisfaction. For that purpose, we need to focus on metrics like retention and engagement, and that's where the problem starts.
India is one of the world leaders in mobile apps downloads, positioned just after China, in the second position. But Indian users are also uninstalling apps almost as fast as they download them.


| | |
| --- | --- |
| According to AppsFlyer's latest report, overall uninstall rates are still on the rise, with most uninstalls after the first day seeming to occur within the first 14 days of installation. Uninstalls drop after the third day, accelerating again from day 7 to day 14 before leveling off significantly between days 14 and 30. | |

Even more impactful, for some verticals as the Finance, Shopping, Entertainment, Utilities, and Food & Drink categories, 60% of the users who did uninstall within 30 days did it within the 1st day.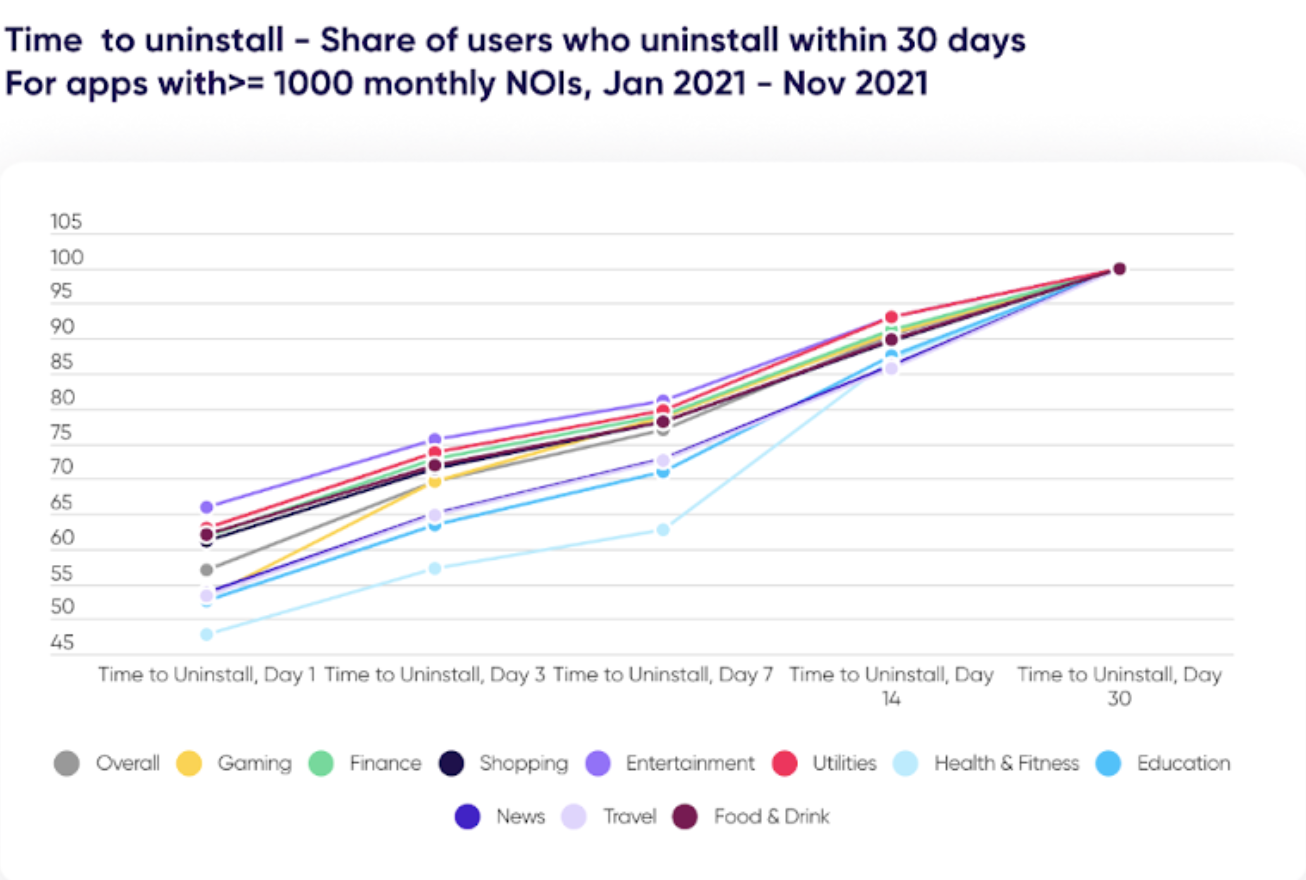 What this shows us is that Indian users are not easy to please, but even more importantly, it tells us that only a fraction of the installed mobile apps will be able to monetize those users.


Performance, optimizations, and app monetization

I won't bother you with the same old preaching about how top-performing, fully optimized mobile apps make more revenue than those who aren't. For that, we have Google's mobile benchmarks or the famous Deloitte report "Milliseconds make millions," where the title itself it's self-explanatory.
What I can tell you is that Indian users have high standards regarding which apps can conquer a space on their smartphones, and among the several factors that can contribute to the decision, two stand out - Indian users prefer apps that take up less space and are faster to use, or in other words, they want fully optimized mobile apps, and they care about the user experience.
In fact, if the quality of the experience doesn't meet expectations and your users end up having a negative experience while using your app, you can expect 62% less likelihood of them making a future purchase — no matter how beautiful or data-driven your marketing campaigns are.
If this crossed your mind and made you feel frustrated, we felt the same, and that's precisely why we decided to build Codavel.
Codavel Mobile CDN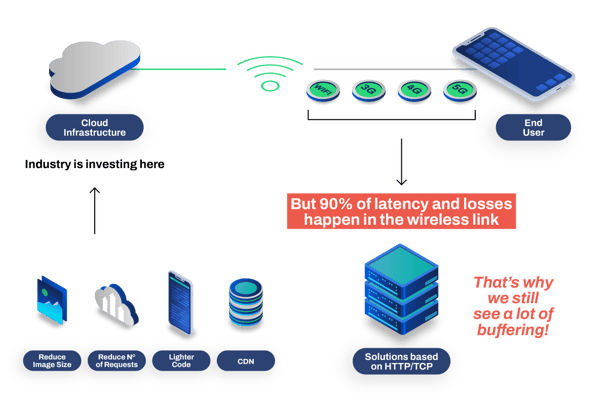 The lack of solutions to help mobile app developers control the experience from end-to-end is the reason why we built Codavel Mobile CDN, a unique content delivery solution that is not only fast but also highly resilient to network instability.
We are able to achieve this because, at the core of our CDN, you will find Bolina, a mobile-first protocol built specifically for mobile applications, and capable of handling the worst network conditions, presenting robustness against latency and packet loss, regardless of the user's network, device, or location.
This way, Codavel Mobile CDN can help you regain control over your user experience, and ensure your users arrive and stay with you for a long and enjoyable journey.
Try Codavel Mobile CDN for free